As a sales director or business owner, you have to know how to get the best from your salespeople. There is also a lot that goes into getting the best results possible from today's sales agents. Making sales has never been an easy way to make a living. In some way, it's harder than ever because today's consumers are getting better at making good buying decisions.
This means it's also getting harder for you the person leading the sales team. The good news is that you do not have to settle for lackluster results. In fact, with the right system you can start Crushing B2B and consumer sales in a relatively short period of time. If you play your cards right, you may find your sales team making more sales than ever because those consumers are getting smarter.
Ready to learn more?
Keep reading to discover several ways that you can help your sales team get more positive results.
Here are some ways to motivate your sales team to achieve next-level results
Don't give them too many hats to wear
Let them focus on relationship-building and sales. There has been a trend in the business world of giving people many different roles and responsibilities. If your sales team is also responsible for marketing, administrative, and other tasks expect your bottom line to suffer. Marketing and sales are not the same so keep that in mind while building your team. There are a lot of salespeople that are good at marketing and there are a lot of marketing people that can sell. Few salespeople excel at administrative tasks.
Time never stops and salespeople trying to meet quotas or earn bonuses don't want to be filing documents, drawing up marketing campaigns, or entering data.
If you cannot hire a good administrative assistant to help your sales team then you need a good CRM tool. The more time and hassle that you can save your sales team the happier they will be and the better they will do.
Limit meetings
There are a lot of valid reasons to have meetings with your sales team. However, there are also plenty of reasons to limit your sales meetings. Every minute spent in a meeting is a minute that could be spent making sales.
In today's social media world, sales are harder to come by due to the way buyers are making their decision. Cold-calling isn't dead, but it's taking a good beating. Consumers are relying more and more on social media and search engines to find products and services to fit their needs.
Technology is making communication easier for everyone. Share what you can with your sales team via email, group chats, and videos. This will save time and provide a record that they can access at any time should they need to. It's more effective than having your sales team attend meetings and take their own notes for several reasons.
Do your salespeople love to sell?
There are a lot of salespeople in the wrong line of work. It takes more than excellent communication skills to be a good salesperson. It helps to be gregarious and likable, but good salespeople have a passion to sell. Some people are natural salespeople because they want to make the sale at all costs. Other people have all the skills in the world to make a great salesperson but they lack the competitive edge to truly excel.
It is possible that your team struggles because it's full of people that lack the innate ability to sell. Sales is a skill and the natural ability to sell is a gift that a lot of us simply don't have. A few natural salespeople on your team can make the team successful. Identify the natural salespeople in your team and help them hone their skills and knowledge of your product or service.
Develop a strong company culture
Nothing hurts sales more than low morale or negativity in the office. Sales teams that have drama or negative people won't perform as they should. This is a common problem for sales teams that aren't performing. There is a fine line between healthy competition and cancer that negatively impacts your company. The choice to focus on teamwork over office competition is usually the wise one to make.
If you want to make sales then make sure that you're providing your team with a non-toxic, positive work environment. Make your salespeople happy to come to work and they'll thrive more than fail.
Here are 5 things that show you have a positive sales floor
Limited gossip- Open and honest communication helps foster a positive company culture. Nothing kills motivation or causes problems quicker than office gossip. Office politics is a sign of problems to come.
Low employee turnover- Some sales teams seem to have a revolving door and those are the ones that usually struggle the most. People do not quit on companies that they like very often. Treat your team right and they'll stick around. They will also strive to succeed.
There is a team feel- Teamwork makes the dream work is more than some cheesy saying because a good team does better than a good individual.
Change is OK- The nature of sales is constantly changing due to social media, consumer trends, and many other factors. Teams that fear change are going to struggle more.
Strong leadership- If you have good leadership there is a great chance that your team will be making sales and avoid a lot of the issues that kill a sales team. Success starts with the leaders.
Do all or most of these signs apply to your business and sales department?
If not, it may be time to consult with a business-building expert like a CB2B Implementer.
Give your sales team the right tools
There are many reasons why a sales team can struggle and one of the big ones often revolves around a lack of help. Give your sales team the right tools to be successful.
Here are some examples of tools that could help your sales team:
A CRM tool – Good salespeople are often fairly bad at being organized. Make it easier on them by providing a good administrative assistant or CRM. Here are a few to check out: Salesforce.com, Zoho.com, and Pipedrive.com
Calendly –This tool can help your salespeople quickly schedule meetings and plan their day. Having a good electronic calendar is a prudent move.
Trello – This tool helps your team easily collaborate, optimize leads and manage the pipeline and other tasks.
Check with your team to see what their biggest issues with time-management are. There are a lot of tools that can help your sales team eliminate or reduce most of their time-management issues so make sure to address them.
Provide coaching and training
It's hard to sell a product or service if you don't know it like the back of your hand. You also need to convey a passionate belief in whatever you're selling. Therefore, it makes a lot of sense to ensure your sales team knows everything about your product and service while also believing in its value.
Ongoing coaching and training will help your sales team stay on point.
Product sheets and sales scripts can go a long way in improving a low-performing sales team's results.
Ask your team what hinders their sales
It's easier to fix problems that you are aware of. No one will know why your sales teams are struggling better than your team members. Asking questions about what is standing in their way from making the sale may also highlight issues with your team or individual salespeople. You can provide all the right tools, training, and coaching, but still, struggle if your salespeople have a poor mindset or limit in skill.
Improve your hiring process
Some people really can't sell at a high level no matter what tools or help they're given. Improve your hiring process by pre-screening candidates over the phone. Identify a sales personality early in the hiring process. Hire talent over experience and resumes. It's important to find people that fit your company culture and have the right drive and natural skills to sell.
Remember that it will take time to implement successful change in your sales team. Your results won't come overnight, but they will come if you focus on the points from this article.
Start Crushing B2B sales
Contact us if you want to start Crushing B2B sales or learn more about how we can help you with your search engine and social media marketing. Share your B2B sales thoughts, questions, and tips with us in our Crushing B2B LinkedIn group.
About the Author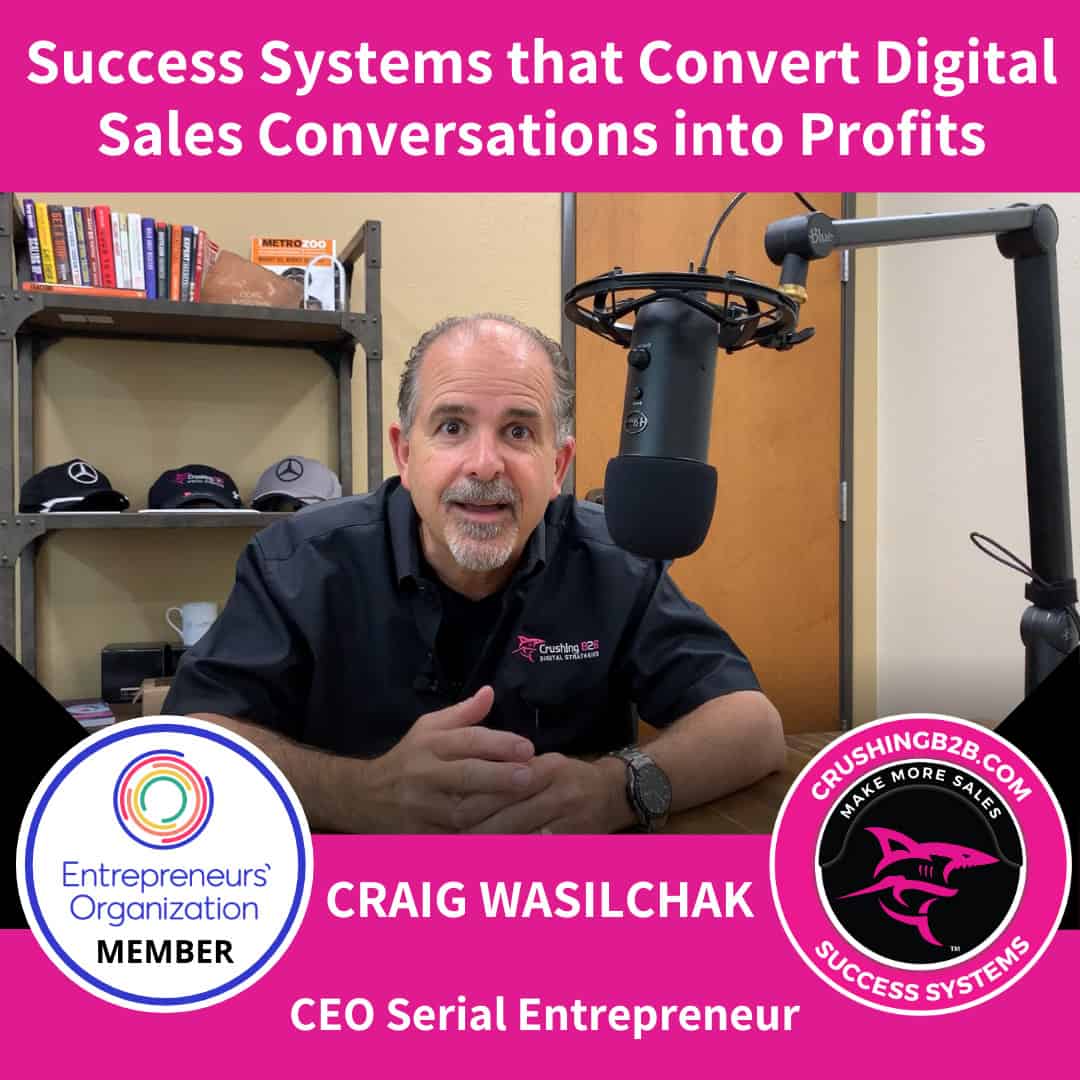 Craig Wasilchak is the founder and CEO of Crushing B2B Digital Strategies. He is also an active member of the Entrepreneur Organization, as he is the owner of a business earning over $1M in sales annually.
Crushing B2B Digital Strategies is a Dallas-Fort Worth area-based company that teaches CEOs, C-Level Execs, & Entrepreneurs how to grow their business value by using success systems for LinkedIn, other social media platforms, and SEO. Crushing B2B offers a variety of Social Selling & LinkedIn training, Branding & Lead Generation systems that are proven to convert digital sales conversations into profits.
As a B2B Mentor that has extensive skills in Leadership, Mentoring, and Entrepreneurial skills, Craig loves to share his amazing business journey and help others achieve their maximum success.
Craig has built and sold multi-million dollar businesses over the last 25 years. Now, with Crushing B2B Digital Strategies, his goal is to teach other entrepreneurs how to grow and run profitable businesses in a disrupted business world utilizing practical business strategies. If you wish to connect with Craig here on LinkedIn, just send an invite! You are also more than welcome to subscribe to his YouTube Channel "The B2B Lead Generation Movement".