It's more important than ever to understand the steps to take in order to achieve social selling success on LinkedIn. There are over 660 million users on LinkedIn so it's the largest professional networking site in the world. This means it's also the best place to reach your target customer if you're providing B2B products or services.
However, many organizations are starting to understand traditional marketing strategies don't really work well. Social selling skills are more important than ever because today's buyers are better informed than ever. People have more information so they're going to make better decisions, but people still buy from people that they like.
With the right digital marketing and networking strategies, your sales team can find, connect with, and ultimately sell to your target customers. These 10 social selling success tips for LinkedIn can help you grow your network and build your sales pipeline.
LinkedIn social selling success tips
Social selling is all about using social media to find, engage with, and building relationships with your business avatar. Most social selling starts with commenting on social media posts and sending messages to prospects. However, there are a lot of additional things you have to do because you have to build trust. If you build trust with people then you can go from social to selling with a lot less friction.
There are so many people on social media, LinkedIn included, that it pays to focus on building relationships more than making sales. If you build enough quality relationships with the right people on social media the sales start picking up. Social media posts that often have nothing to do with a particular product or service can often drive the most business. These 10 social selling success tips for LinkedIn should explain how.
Here are 10 tips to help you improve LinkedIn sales: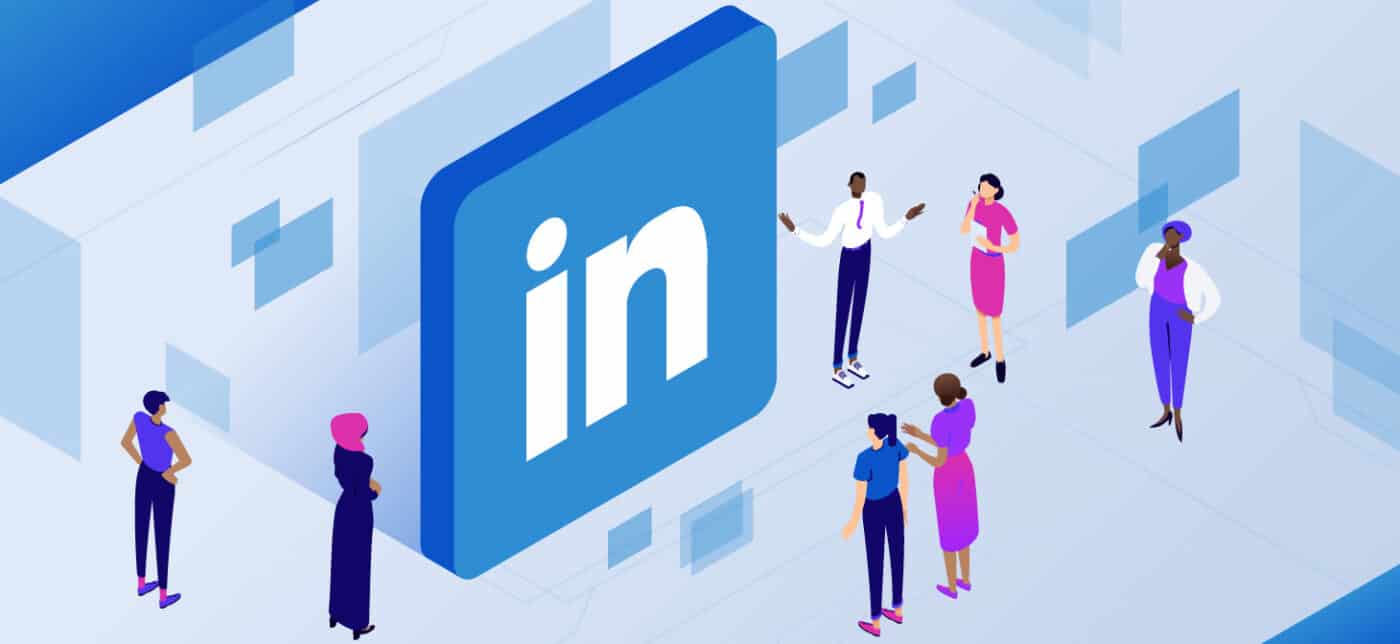 1. Give your LinkedIn profile a makeover
LinkedIn survey results show that 62 percent of buyers look for an informative LinkedIn profile when deciding whether to work with a sales professional. This is why your sales team needs profiles that show their knowledge and skill. A good LinkedIn profile makeover can help your show their professionalism as well as some personality. A LinkedIn profile is like a personal website because it can show people whatever you want.
Your sales teams need profiles that show who they help, how they help them, and who they have helped in the past. The more a profile shows someone how the person fixes problems the more it will generate leads. However, a profile that shows all the greatest skills and services in the world won't make any sales if there is no personal connection. It's worth the investment in time and/or money to ensure that your LinkedIn Profile Makeovers produce.
2. Add your website URL everywhere you can
LinkedIn provides many free spots to put your website and social media links out in front of your network. Use them. Add your website and social media links to your contact info on your profile. You can also add rich media files and links to your about me summary too!
You can share videos, blogs, case studies, testimonials, or whatever else you want directly on your LinkedIn profile. Find your most compelling content and share it on your profile.
3. Engage with all your connections within reason
You never know who is going to help or perhaps hurt your business on social media. It pays to be nice to everyone. It's important to respond to messages and comments within reason. Now, don't go right into pitching your products or services as soon as you connect. Take time to thank new connections for making the connection. Having pre-written messages and comments for different scenarios can save a lot of time.
The more your network grows the harder it is to keep up so having templates help a lot. However, it's also important to make sure your template messages don't come off as such. Personal messages work best whether you're trying to sell or be social. Your profile should show how you provide value to prospective clients while also providing a solid CTA and contact info. If you make your profile right and engage within reason then you can expect your lead generation to pick up.
4. Choose your targets
The most vital component of any successful social selling campaign is business avatar identification. You need to find the right people before you can engage with them and build a relationship of any kind. Once you define your business avatar, you have to use the right keywords and strategies to find them.
LinkedIn gives people the ability to find others through keyword searches that pick information out of user-profiles to find the right people. This is another reason why it's so important to get a professional LinkedIn profile makeover.
Use search strings with multiple filters to find your perfect business avatars.
5. Practice referral networking and close your circles
People buy from those that they trust. If you trust someone in your network let them know that it's OK to ask you for introductions to others in your network. LinkedIn allows you to see mutual connections as well as a lot of other information. Use that information to close your circles with your business avatars. The more mutual connections you have with someone the more likely they are to extend a little trust.
Making friends with the friends of your business avatar is never a bad idea.
6. Use Sales Navigator
There are a lot of ways to build a network and make money without ever spending a dime on LinkedIn. However, LinkedIn Sales Navigator also provides a lot of features that make things easier. One such feature is the extra search filters. There are a lot of bells and whistles in Sales Navigator so it can be tricky to use at first. That is why we offer Selling With Linkedin Sales Navigator training.
7. Content is crucial
Most people, at this point, understand that content is crucial to social media success. This doesn't mean that most people understand how to produce and distribute the best or most relevant content. Curating content is also a great way to produce results without wasting a whole lot of time producing content. Out of sight means out of mind so it's important to stay out in front of your business avatars. However, you don't want to be SPAMMING them or kicking a dead horse with repetitive content.
Develop a strategy to consistently share quality content. Apply the 80/20 rule to your content marketing strategy. Most of your content should be engaging, entertaining, educational, or interesting. If you have a good title and profile on LinkedIn your content doesn't have to be all about your business, products, or service. Engaging content brings more people to your profile so put out content that people like.
8. Sharing is caring
Sharing is caring is an old saying that takes on a whole new life when it comes to social media. Social selling revolves around sharing and engaging in content that people like. Sharing someone's content is also a great way to lay a foundation for a strong relationship. Everyone needs views and appreciates engagement in their content. Help someone get more views and engagement and they're most likely going to appreciate it.
However, the big key is to develop a process that saves time. Set schedules and use software to make curating and sharing content easier and less time-consuming.
9. Become open networkers
Everyone in your company should have the biggest network possible for many reasons. Your business avatars are looking at the same feeds and using the same search engines that you are. Make it as easy for them to see your sales team and brand as possible.
Every time that you like, comment, or share content on LinkedIn a portion of your network will see it. The more people that like, comment, or share your content or activity the more people will see your profile and contact info.
Everyone in your company should be encouraged to connect on LinkedIn. They should also be encouraged to like, comment, and share each other's content as much as possible. There are so many companies on LinkedIn still trying out how to maximize their reach. How many times have you seen a page of some large corporation with thousands of employees and followers, but very little engagement on their posts?
Teach your team how to engage on LinkedIn. The more engagement your company creates the more leads and sales they will produce.
10. Be consistent
Being consistent in your posting and engagement will help with your social media selling efforts more than just about anything else. Your team should have intervals set up throughout the day to do their posting, commenting, and networking. Use calendars and automatic posting software or services to help if you need to help with consistency.
How to measure your social selling results
Social selling takes time to develop, but it's also important to keep track of your results from day one. You should create digital marketing and social selling strategies that have a clear timetable for significant results. There should be points and Key Performance Indicators (KPIs) established to help you know if you're meeting your goals. Define your goals and KPIs before you begin your social selling campaign.
There will be a natural progression in the social selling cycle. Your team will begin to get more views and engagement fairly quickly. This increase in activity will also lead to more invites and requests to connect. The bigger network and increase in views should lead to more people endorsing skills and engaging in content. Skill endorsements on an optimized profile can start to generate a lot of search engine traffic on LinkedIn. The extra traffic from social media engagement and search engines will generate leads. The leads from the search engines and profile views should lead to sales.
How to succeed in B2B with social media marketing
Social media marketing is much different than traditional marketing due to the potential for an incredible ROI. Look at Wendy's for example. They sell a lot more hamburgers than ever due to the way their social media marketing team manages their Twitter account. The content that your business and employees share on social media paints a picture. Some companies really focus on their image to no end.
There is a major misconception with a lot of people that social media marketing needs to be completely focused on your product or service. People that are buying on LinkedIn tend to search for the people that can provide the product or service that will ease their pain. Therefore, it makes a lot of sense to be as visible as possible in the search engines on LinkedIn. That is why it's so important to have an optimized profile, large network, and viral content.
Your social media marketing should act as the top of your lead generation funnel. The idea is to push people from social media to your website or profiles. Your website and profile should be able to generate leads from there. Encourage your team to use their best judgment when it comes to being social on social media. Social media marketing can be more fun and productive than most people realize at this point. Implementing the right social media marketing strategy can also help build a powerful company culture.
Start Crushing B2B sales
Contact us if you want to start Crushing B2B sales or learn more about how we can help you with your search engine and social media marketing. Share your B2B sales thoughts, questions, and tips with us in our Crushing B2B LinkedIn group. 
About the Author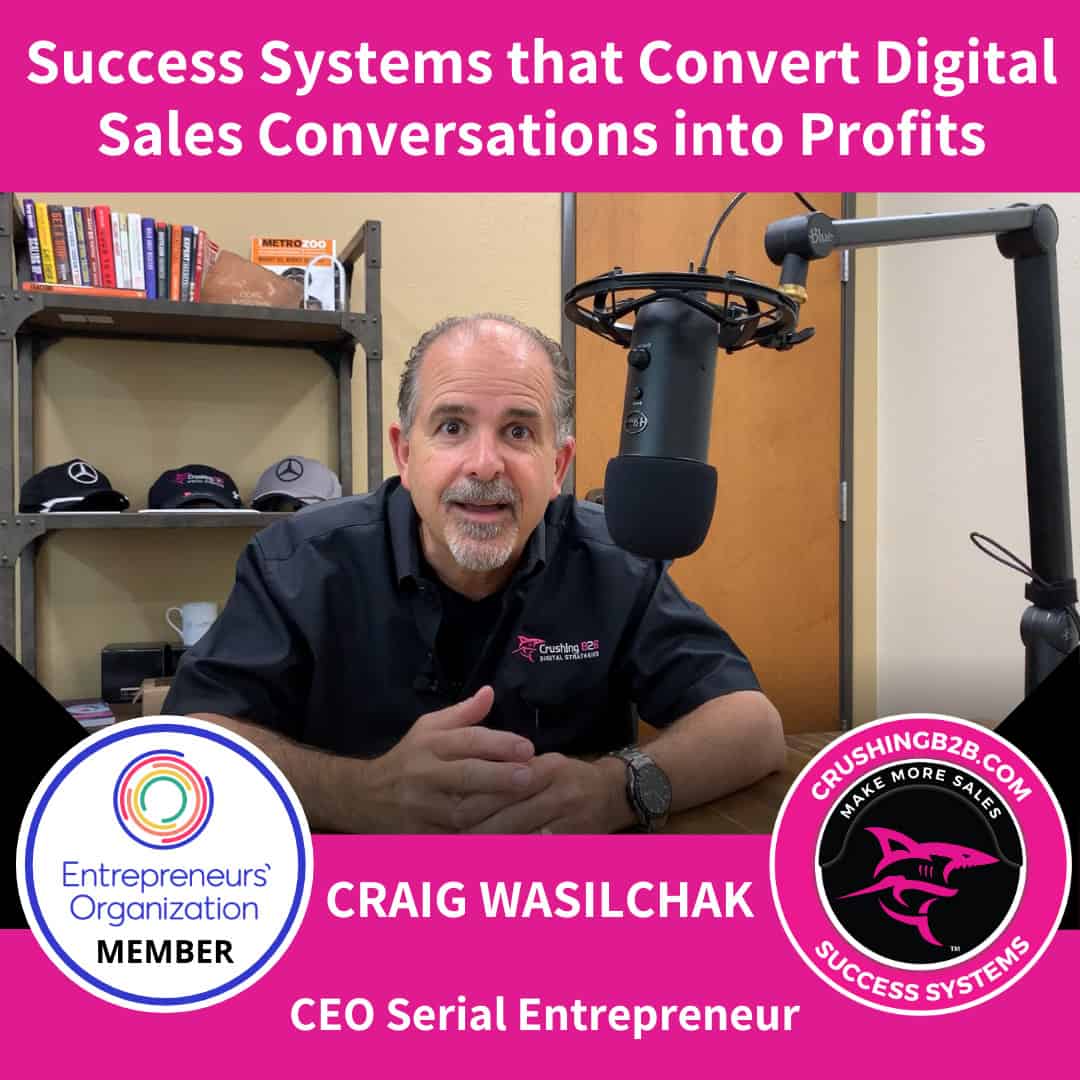 Craig Wasilchak is the founder and CEO of Crushing B2B Digital Strategies. He is also an active member of the Entrepreneur Organization, as he is the owner of a business earning over $1M in sales annually.
Crushing B2B Digital Strategies is a Dallas-Fort Worth area-based company that teaches CEOs, C-Level Execs, & Entrepreneurs how to grow their business value by using success systems for LinkedIn, other social media platforms, and SEO. Crushing B2B offers a variety of Social Selling & LinkedIn training, Branding & Lead Generation systems that are proven to convert digital sales conversations into profits.
As a B2B Mentor that has extensive skills in Leadership, Mentoring, and Entrepreneurial skills, Craig loves to share his amazing business journey and help others achieve their maximum success.
Craig has built and sold multi-million dollar businesses over the last 25 years. Now, with Crushing B2B Digital Strategies, his goal is to teach other entrepreneurs how to grow and run profitable businesses in a disrupted business world utilizing practical business strategies. If you wish to connect with Craig here on LinkedIn, just send an invite! You are also more than welcome to subscribe to his YouTube Channel "The B2B Lead Generation Movement".