Was your 2020 totally Funked-UP?
80% of people would say yes. Well, here's another question – what the heck are you going to do about it? Are you just going to sit around and let the world keep crumbling around you, or are you going to choose to make a change?
I'm telling you, this pandemic that is causing an economic downturn isn't going away anytime soon. A pandemic is not a one-time event – it usually comes in 2 to 3 waves, which likely spans from 12 to 18 months.
Let's be honest, this year demanded a lot of changes in our lifestyle, how we interact with one another, and how we conduct our businesses. It's a real shame if you haven't stepped back and reviewed your business model already. Most especially if you know your business is going down and you haven't made any changes! The economic impact on your business started in March of 2020. Now, if you can't fix it, go start another business or get into a new business line.
It is life or death for your company.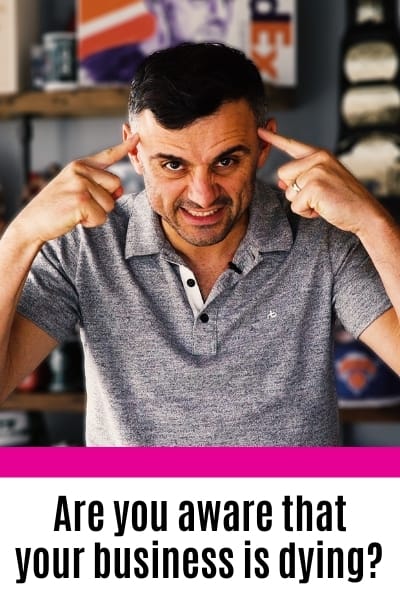 Gary Vee once said this, "If you aren't aware of your own death, how can you possibly attempt to live?"
Right now, hundreds of thousands of businesses aren't aware of their own death. They're bleeding money because of their leadership's indecisiveness. They're quickly becoming insolvent. I'm writing to you, the reader of this article, so that if you can relate, you better wake up.
The following five suggestions will help you UN-FUNK your business and recapture your life.
#1 Use your brain and think like the entrepreneur you once were.
Weren't you a scrappy entrepreneur at one time? Did you use to have that really focused entrepreneurial mindset where nothing would stand in your way? You were supposed to win no matter what! Have you lost that mindset?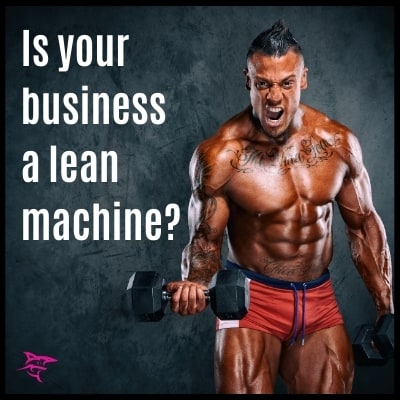 Now's the time to go back to the future. You MUST build back a lean business machine – one that doesn't count on government hand-outs or others to pull you out of a hole!
It's time to be resourceful and cut the fat. Hard decisions must be made. If you need to let people go, don't be afraid to do it. The business has to survive! The rest of your team is counting on you to be a leader and to ensure your business survives.
The most powerful asset an entrepreneur can have is his or her mindset. Successful business owners are people who do not give up easily. The books Traction, Scaling Up, SYSTEMology, Rocketfuel, and Good to Great can help you go back to the basics and figure out what you need in order to thrive.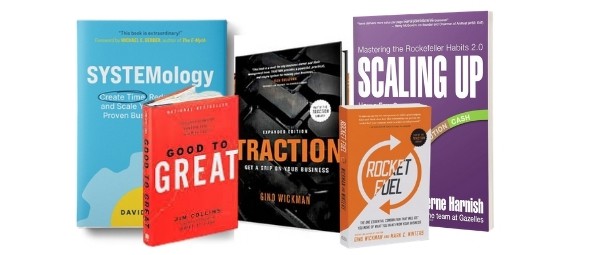 #2 Build a Bold, New Marketing & Social Selling Strategy.
Have you implemented social selling in your marketing model?
No, I'm not talking about dabbling and spamming prospects on social media with pitches that would have you blocked. I'm talking about a 12-month full-blown social selling program. B2B companies MUST have a 12-month plan that includes a LinkedIn strategy. One that genuinely connects your business to your prospects then nurtures them to become loyal customers and brand advocates.
A social media expert may claim they know social media. They SAY they can increase your visibility and get you leads from the different social media platforms in a matter of 3 months. But let me tell you, most social media experts do NOT know LinkedIn.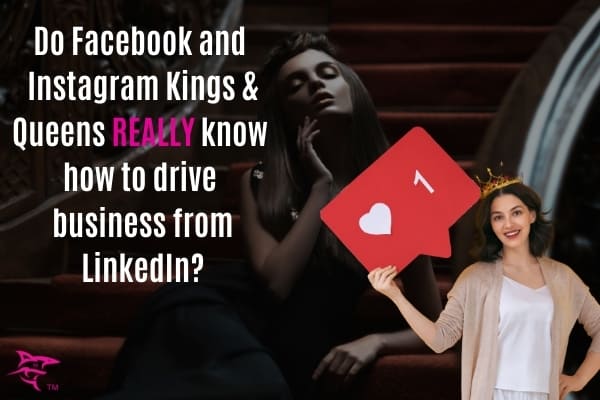 If you're still using Facebook, Instagram, and Twitter for B2B lead generation, and you're NOT producing results even after a year's worth of work, then you better think again. The definition of insanity is doing the same thing over and over again, expecting different results.

If you have a business with over $2,500,000 in annual sales, hire an expert on social selling that has a written 12-month strategy. Don't hire someone that thinks they're an expert, and will be happy to take your money while bringing no value.
If you have less than $2,500,000 in annual sales, go build a successful marketing strategy. Scour the Crushing B2B website for lots of free ideas to build a strategy. This recession is not going away.
#3 Write out your marketing & social selling goals like they never ever existed.
Scrap your old plan and create a new marketing & social selling goals list. I repeat – don't have your Facebook or Instagram internal king or queen plan out your goals and strategies. Facebook and Instagram are way, way, waaay different than LinkedIn. It's like trying to learn a totally different language overnight. If they say they can do it, don't believe them. Go look at their likes, comments, and views on LinkedIn. Instead, get them paired with a LinkedIn expert trainer who knows how to build annual goals and strategies.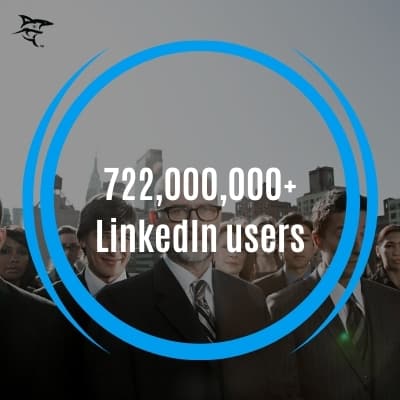 Are you currently using a marketing agency that doesn't know what the FUNK they're doing on LinkedIn while they promise you the world? Take my advice, not many agencies are CRUSHING it in the B2B world. Get a better agency – one that lives and breathes B2B marketing & LinkedIn! Did you know that there are more than 722,000,000 people on LinkedIn?
You MUST build out your quarterly rocks (goals) and annual marketing & social selling goals. How would you know if you're successful if you don't have written goals and verify you're achieving them? Include in your goals list the key people who are accountable for each goal. This way, during your quarterly planning, you will know who needs to up their game.
#4 Your strategy MUST use LinkedIn.
I feel like a madman saying again and again that your strategy MUST use LinkedIn. I can't stress the importance of a implementing a B2B LinkedIn strategy enough!!!
I'm not saying you should ditch your standard practices like using the phone, email marketing, or sending direct messages, etc. – however, you MUST incorporate LinkedIn in your B2B sales & marketing strategy.
Be wary, if you utilize LinkedIn, YOU MUST DO IT RIGHT.
For instance, you and your team should have your LinkedIn profiles optimized for your target avatars (your most profitable ideal customers). Is there consistency in branding among your team members' profiles? Do you or your sales reps still have the new grey banner of death behind their image?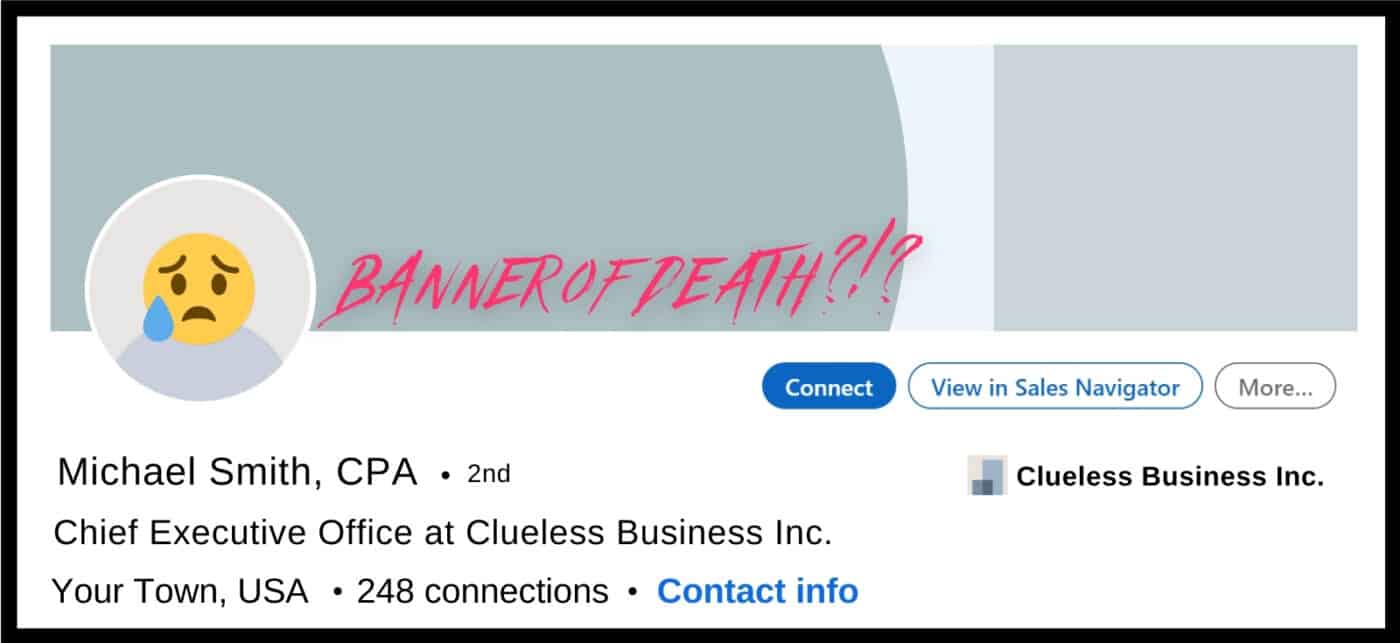 Do you know how to research prospects and do proper outreach? You shouldn't harass people by spamming them with messages, especially if you don't know a damn thing about them.
Before your salespeople reach out and send connection requests, they must be trained by a LinkedIn expert. Otherwise, they will BLOW the relationship for the rest of their business careers. I recommend sending a personalized connection invite with the correct wording, so they won't look like fools or worse – spammers.
Your business and team members must build credibility on LinkedIn by publishing LinkedIn posts & articles. Creating valuable insights through comments on other people's posts will also increase their profile credibility. Would you trust your own sales reps? Just go look at their LinkedIn profiles and check them out (good luck.)
Social selling is a strategy that combines marketing and sales. It is not directly selling on social media. Rather, social selling involves building and nurturing relationships with prospects using the LinkedIn platform. Once the prospect relationship is fortified with trust, that's when you or your salespeople can take the conversation offline – whether through a phone call or a Zoom presentation. It's virtual selling!
#5 Don't forget about the Google Search your prospects perform on you and your employees.
Do a Google search on your name and company, what does it show? More often than not, the first results are your LinkedIn profile, social media accounts, and your website.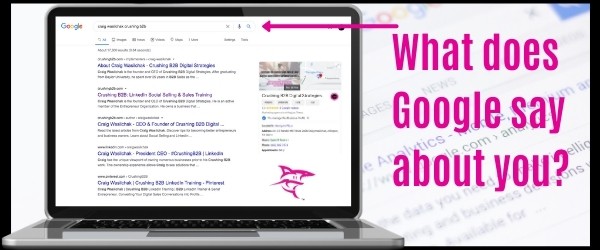 Imagine if a prospect does a Google search about you and your company, and they couldn't find any information and your profile looks like trash (or better yet someone looking like they're trying to find a job)? PROSPECT LOST! Duuuuuh…
It's also very, very important to have your website optimized for your target avatars. Check your page load speed and make sure your content doesn't suck. If you send a prospect to your website and your website won't even keep them there, why would they even do business with you? Another first impression fail (face plant). If your prospects DON'T want to be on your website because you sent them to an irrelevant page, YOU'RE TOAST!
We are all in this together.
I hope you don't take any offense to what I wrote above. I just want lax business owners and entrepreneurs to wake up. This is NOT the time for you to sit back and relax, hoping your business will miraculously shake this off and grow. We are in the middle of a pandemic, which is not going away anytime soon. Fortunes have been had in economic downturns. Will you be leading the way?
If you need help with kickstarting your business's social selling on LinkedIn, read our 14-Step B2B Digital Strategy System. We have so many resources on this website that can help you grow.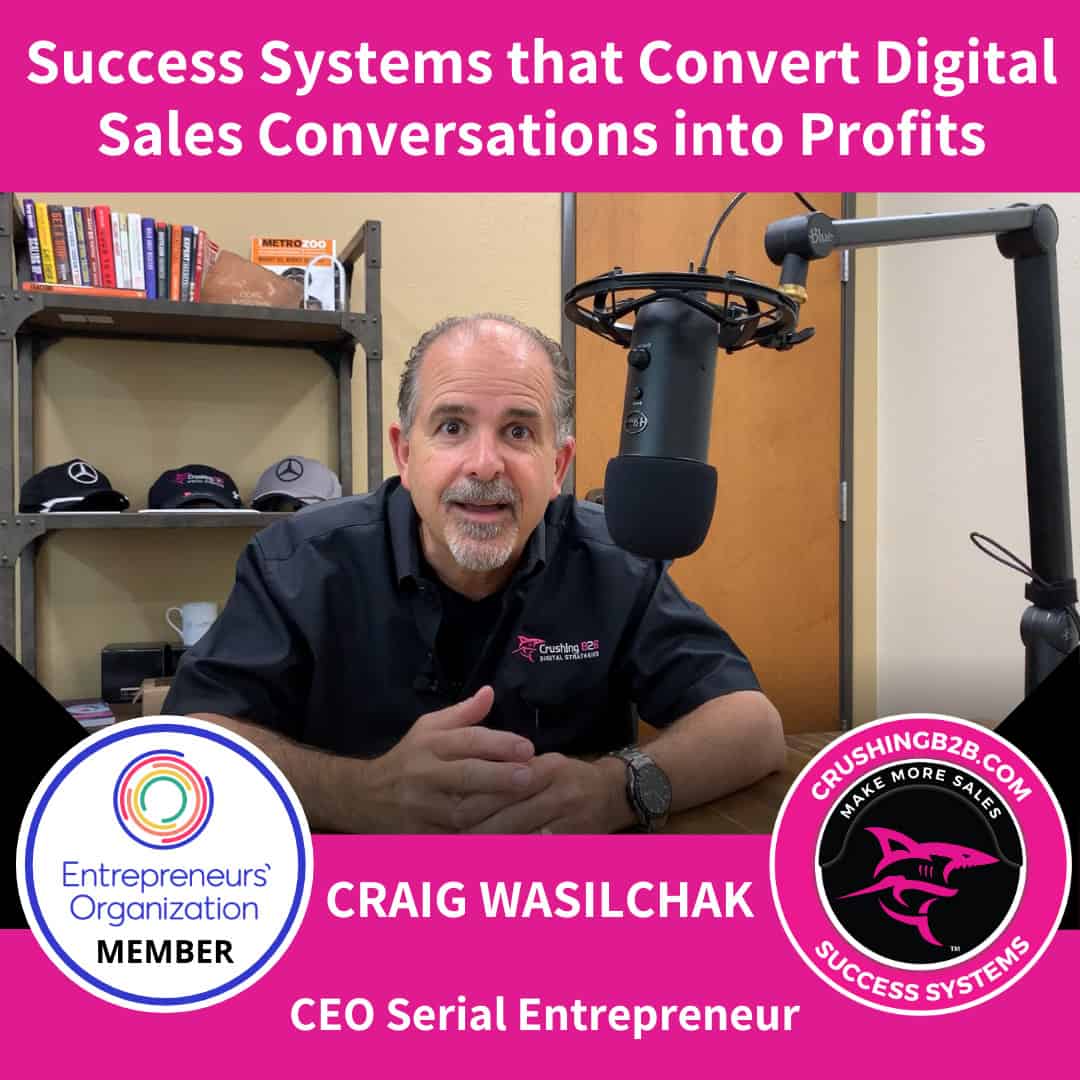 Craig Wasilchak is the founder and CEO of Crushing B2B Digital Strategies. He is also an active member of the Entrepreneur Organization, as he is the owner of a business earning over $1M in sales annually.
Crushing B2B Digital Strategies is a Dallas-Fort Worth area-based company that teaches CEOs, C-Level Execs, & Entrepreneurs how to grow their business value by using success systems for LinkedIn, other social media platforms, and SEO. Crushing B2B offers a variety of Social Selling & LinkedIn training, Branding & Lead Generation systems that are proven to convert digital sales conversations into profits.
As a B2B Mentor that has extensive skills in Leadership, Mentoring, and Entrepreneurial skills, Craig loves to share his amazing business journey and help others achieve their maximum success.
Craig has built and sold multi-million dollar businesses over the last 25 years. Now, with Crushing B2B Digital Strategies, his goal is to teach other entrepreneurs how to grow and run profitable businesses in a disrupted business world utilizing practical business strategies. If you wish to connect with Craig here on LinkedIn, just send an invite! You are also more than welcome to subscribe to his YouTube Channel "The B2B Lead Generation Movement".